SOLD OUT AND COMPLETED-City Family Homes, City Center,Larnaca Sold Out & Title deeds Issued!
Africanos very proudly presents its new residential project CITY FAMILY HOMES- located in the HEART of Larnaca Town Centre- NEAR the prestigious school, American Academy.
The project boasts FOUR whole floor apartments with three bedroom and two bathrooms- all with spacious and contemporary living areas. The whole floor apartments ensure optimum privacy for potential buyers. The FOURTH floor apartment benefits from individual private and luxury roof-gardens ON THE FIFTH floor with amazing views of Larnaca Town Centre. Each apartment has one parking bay and one large storage room.
The lovely residential neighborhood is quiet and family orientated surrounded by classic large luxury houses. The project is walking distance to the beachfront, town centre and private/public schools.
All energy efficient luxury apartments are designed to have large living areas and balconies along with large bedrooms including en –suite shower rooms and walk-in wardrobes. For those who prefer the top end of luxury they can select to purchase a three bedroom penthouse plus a room on the roof-garden with special features which boast luxury living to its limits.
CITY FAMILY HOMES has been fully designed and studied by our professional team of Architects, Engineers and Interior Designers. The modern design makes excellent use of features like Famous Leukara Stonemarble and unique glass balconies and clever layout of living areas designed to offer optional space, privacy and also a views of the prestigious neighborhood.
The project is expected to be completed before 31 DECEMBER 2019.
AFRICANOS PROPERTY DEVELOPERS has managed to be the only Land Development Company whose projects have a certificate of zero consumption and energy efficiency of grade "A".
Proof of this fact is that in our upcoming projects such as HIGHLAND RESIDENCES, CITY FAMILY HOMES and MAKENZY BREEZE RESIDENCES, photovoltaic panels will be installed in order to produce renewable energy. The photovoltaic panels through "net metering" will make sure owners benefit from savings significantly consumption.
Apartment No
Price (€)
Bedrooms
Bathrooms
Total Area (m2)
Covered Area (m2)

Uncovered

Terraces (m2)

Parking Bay & Storage Room
No.401
SOLD
3 plus Room on Roof
3
292
227
65
YES
No.301
SOLD
3
3
168
168
-
YES
No.201
SOLD
3
3
168
168
-
YES
No.101
SOLD
3
3
171
168
3
YES

Additional Info
First time buyers who purchase a property for permanent residence or as a holiday home for their own use are entitled to a lower VAT Rate of 5% subject to the approval of the Cyprus VAT office. Otherwise, the standard rate of VAT in Cyprus is 19%.
Method of Payment
WITH THE SIGNING OF CONTRACT
WITH THE COMPLETION OF EXCAVATION WORKS OF THE SPECIFIC PROJECT
WITH THE COMPLETION OF FRAMEWORK OF THE SPECIFIC APARTMENT
WITH THE COMPLETION OF BRICKWORK OF THE SPECIFIC APARTMENT
WITH THE COMPLETION OF FLOOR TILING OF THE SPECIFIC APARTMENT
WITH THE COMPLETION OF THE SPECIFIC APARTMENT.
Notes and Disclaimer
We reserve the right to change prices, or not sell a property without prior notice. These particulars (including prices, areas, description of property) shall not form any part of any offer or contract.
Every precaution is taken to ensure that the information contained in this analysis is correct at the date of publication but no warranty either expressed or implied is given to this effect. This analysis is intended to be used as a guide only. The publisher and owner shall not be liable to contract or in tort for any loss or damage caused to the customer or buyer, its employees or its agents arising out of the use of information contained and/or analysis contained within this study. The Information represents our view as of the date hereof and is subject to change and/or withdrawal at any time without notice. The above calculations are only estimates. The prices, costs values and incomes may change (increase or decrease) in the future. This document is confidential, and no part of it may be reproduced, distributed or transmitted without the prior written permission of the owner.
30/11/23
Conquering Mackenzy Area- Series 1 by Africanos Property Developers
View details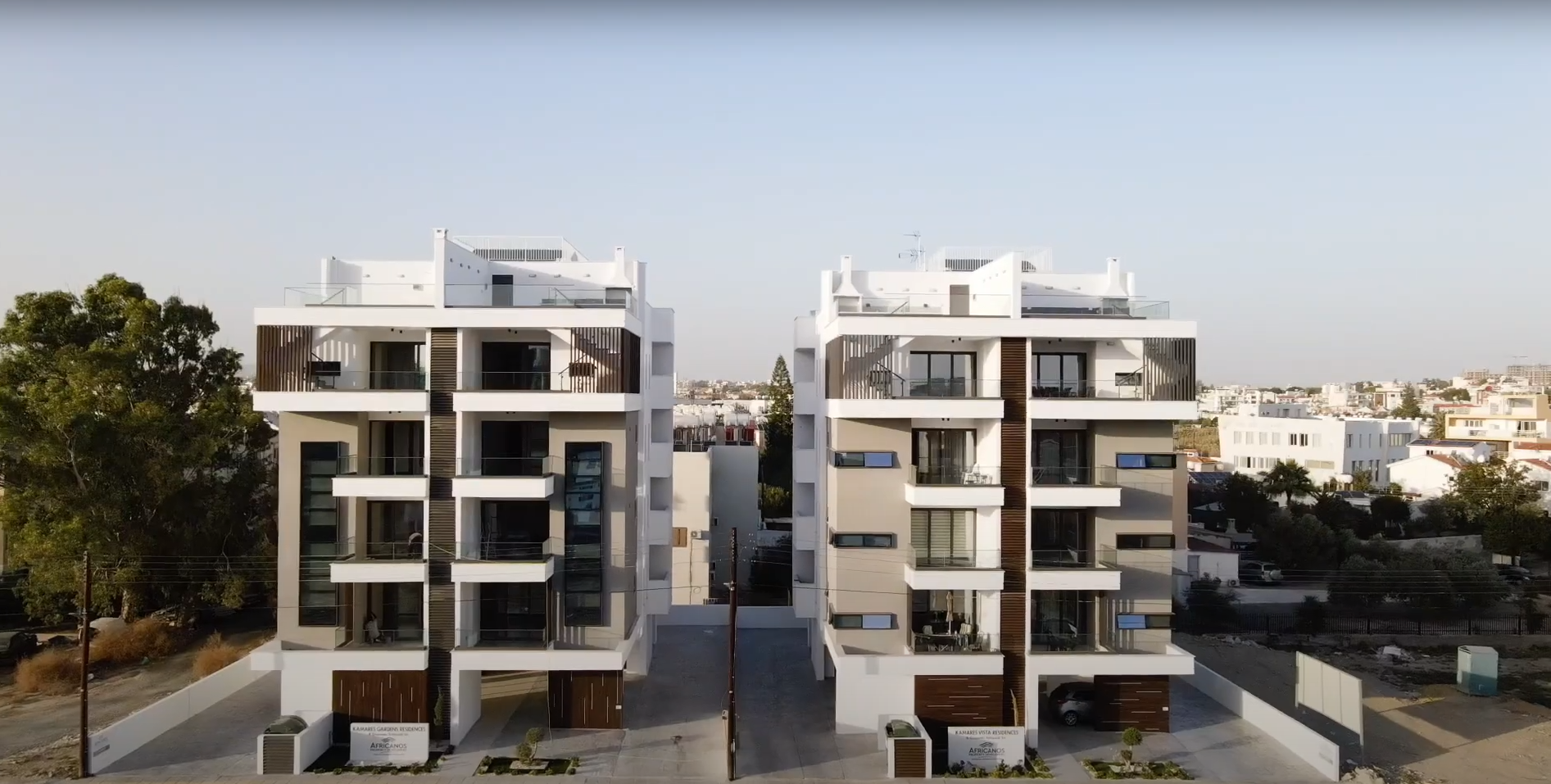 20/11/23
Παράδοση KAMARES VISTA RESIDENCES & KAMARES GARDENS RESIDENCES απο την Africanos Property Developers
View details
16/11/23
Έναρξη εργασιών για το Έργο Downtown Redisences από την Africanos Property Developers
View details